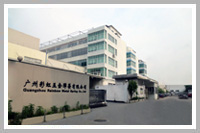 Rainbow Precision Metal Limited (Formerly known as Kowloon Metal Spring Factory) was founded in Hong Kong in 1970 as a professional spring manufacturer. Nowadays, it has become a world leading manufacturer of precision metal components with Three factories in Guangdong Province, China.

The first plant in China was established in 1991 and continues developing and supplying an extensive range of comprehensive customized items. A series of professional services from design to manufacturing to quality assurance are provided. The major products include springs, wire-forming, precision stampings, assemblies, shafts and fasteners, rods which are the necessary accessories for various industries such as automobiles, electronics, toys, houseware, electrical appliance, communication and medical, industries.
Coupling advanced technologies and manufacturing facilities, there has been continuous improvement on our processes and systems throughout the years. Until 2013, the total investment amount reached USD 30 Million with more than 800 units of machines and 800 employees. We provide inbound sales services as well as exporting goods to over 20 countries in the North America, Europe, Asia, Middle East and Australia, etc.
Recognizing the importance of quality control, Rainbow adopts a series of measures during the entire manufacturing process. We also embark on a course of diversification and intend to meet specific demand of customers from different business sectors. We are accredited a number of highly recognized certificates including IS0 9001, ISO 14001, ISO/TS 16949 and ISO 13485.
"Your Target, Our Mission" is our philosophy. Striving towards the target and achieving the goal, we are committed to providing the best quality products with excellent services for the benefit of our honorable customers.